Current line-up
Ely Buendia - vocals, guitar
Raymund Marasigan - drums, vocals
Buddy Zabala - bass, keyboards, vocals
Marcus Adoro - guitar, vocals
*Noel Garcia - keyboards, vocals
(*session musician)

Discography
July 1993 Ultraelectromagneticpop

October 1994 Circus

December 1995 Cutterpillow

December 1996 Fruitcake

June 1997 Bananatype (EP)

September 1997 Sticker Happy

October 1998 Aloha Milky Way (Asian Album)

May 1999 Natin99

Listen to:
Casa Fantastica, from the album 1896 Ang Pagsilang

Videography
"WITH A SMILE"
from the album CIRCUS
"ANG HULING EL BIMBO"
from the album CUTTERPILLOW
"FRUITCAKE"
from the album FRUITCAKE
"TRIP TO JERUSALEM"
from the album FRUITCAKE
"KALIWETE"
from the album STICKER HAPPY
"JULIE TEARJERKY"
from the album ALOHA MILKYWAY
"WITH A SMILE"
from the album ALOHA MILKYWAY
Directed by Ely Buendia and Mark Villena
They took their name from the title of a movie by David Lynch that they read while flipping through the pages of a magazine. When they saw the movie years later, they concluded that it had a dark and confusing theme. Thank God the name didn't bring an omen to their careers. The Eraserheads have gone from being the biggest "flukes" to being the biggest thing to ever happen to the Philippine music industry, then just starting to recognize another kind of music – band music.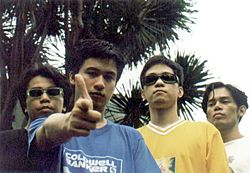 The Eraserheads
ORIGIN
The year was 1989. Four UP (University of the Philippines) students armed with second-hand instruments decided to form a band, thinking of it as nice way to catch the attention of girls on campus. They did mostly covers, playing at every university gig they managed to get into. Eventually, they did the rounds of Manila's alternative rock joints but found that though the way to perdition is very easy, the road to rock superstardom was not.
Add to that the fact that Ely, Raymund, Buddy and Marcus realized that they weren't all that good at belting out other people's hits. So, they concentrated on writing their own songs instead. "After all, if we committed a mistake, no one would recognize it since they don't know the song, right?" was how Ely explained the evolution of their originality. Their music was unclassifiable, they recklessly walked the crooked line between the mainstream and the alternative with a mix of pop, rock, and everything in between, instantly familiar yet totally unheard of.
In 1990, after rejection from several prominent clubs, The Eraserheads were ready to give up playing the clubs when they were spotted at a UP gig by then Dean's December vocalist Binky Lampano and Ethnic Faces frontman Jack Sicat. Binky and Jack suggested they audition at the then fledgling Club Dredd in Timog. Dredd owners Patrick Reidenbach and Rob Sunico liked them at once and they soon became a regular feature in the monthly schedule.
Doing the songs live soon earned for them a cult following which gradually spread beyond the confines of their alma mater. One of the songs, a spicy ballad entitled "Pare Ko" became an underground hit for its lyrics coupled with few cuss words at places.
Summoning up all their courage, they did the rounds of stations and record companies, hoping to have the songs reach public awareness. They were, unfortunately, rejected at every turn.
A professor-friend from their school, Robin Rivera, helped them record a better version of the song in an album which they entitled POP-U in deference to all those who've turned them down. (This demo album can be considered a rare classic since only about a dozen copies were known to have been made.) As this demo went around, it found its way to BMG Records (Pilipinas), Inc. a year after it was made and the rest, as they say, is history. The stuff true success stories are made of.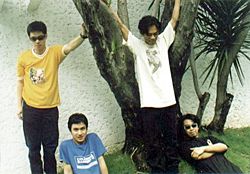 The Eraserheads
CONQUERING THE RECORDING SCENE
1993. Having been signed to a three-year deal, The Eraserheads settled down to work on their debut album. The result was The Eraserheads' initial presentation titled as extraordinary as the music they were projecting: Ultraelectromagneticpop. This featured no less than the eclectic "Pare Ko" and host of other novelty pieces that had people listening and discovering more about this quartet. The album was an unexpected success receiving airplay in many mainstream radio stations throughout the country. Music industry veterans could not understand why four plain-looking, unassuming college kids created such waves. Even an unsuccessful attempt by PARI to censor the irreverent "Pare Ko" only fueled the controversy and sales even more.
While their newfound fans and admirers were still reeling from this astounding development, The Eraserheads came up with a whopping follow-up: Circus. They said that this aptly describes how their life has been since their smashing debut. Like the title, the album proved to be a roller-coaster ride of unpredictability and unconventionality. Its collection of songs range from being euphoric to downright hilarious, interspersed with occasional tenderness and somber tones.
Once again, The Eraserheads got involved in controversy when Senator Tito Sotto (ironically a popular musician himself in the 70s) decided to make an issue over one of the album's songs, "Alapaap," with its supposed reference to drug use. Fortunately, their fans stood solidly behind them and the campaign was soon forgotten when it proved to be politically negative for the senator.
With this album, not only have the guys established themselves as damned good songwriters and musicians, they have also opened a whole new world for music lovers and enthusiasts to wallow in.
Their much awaited third album, Cutterpillow was launched via an open-air concert in their old school, UP, attended by fans and followers in colossal proportions. All witnessed what was to be The Eraserheads' fitting finale to an otherwise explosive 1995.
With Christmas barely a month over, The Eraserheads opened 1996 by making history once more as Cutterpillow turned gold even before it hit the record stores as a result from the pre-selling promo campaign. While Cutterpillow soared to the possible heights any album can reach (a whopping eight times Platinum!), the guys made things zestier by shooting a music video based on one of the songs in the album, the semi-tragic "Ang Huling El Bimbo" ("The Last El Bimbo'").
In the same year, The Eraserheads came up with their first Christmas album, Fruitcake. This was followed shortly by the Fruitcake Storybook and the Fruitcake music video which was conceptualized and directed by The Eraserheads themselves.
Their fifth album, Sticker Happy, was released in September of 1997. Sticker Happy is packed with 18 cuts featuring the carrier single "Kaliwete." Of course by this time, news about The Eraserheads being a phenomenon no longer surprised anybody.
That year The Eraserheads won international recognition by winning the Asian Viewers' Choice Award for "Ang Huling El Bimbo" in the 1997 MTV Video Music Awards. The four-man band flew to New York City, to personally receive the award during the ceremonies held September 4 at the Radio City Music Hall.
So a few months later, in 1998, BMG Records decided to try The Eraserheads' luck in the Asian market. They released Aloha Milkyway, a compilation of nine chart-topping songs that were re-mastered and recorded for their international debut. These included "Downtown," "Ambi Dextrose," "Andalusian Dog," "Hard To Believe," and "Milk and Money" from Sticker Happy; "Trip to Jerusalem" and "Fruitcake" from Fruitcake; "With A Smile" from Circus; and MTV-winning bonus track "Ang Huling El Bimbo" from Cutterpillow. Five Songs were new releases: "Julie Tearjerky," "Tamagotchi Baby," "Saturn Return," "Small Room" and "Scorpio Rising." As a bit of trivia, this last cut was part of their demonstration tape Pop-U from way back.
After the success of their first Asian album Aloha Milkyway, The Eraserheads are scheduled to release their sixth local album on May 18, 1999 called Natin99. It is composed of fifteen all-Tagalog original compositions. Avid followers of the group may take a bite of this new recipe at the album launch set for May 30 at the Megatrade Hall in Pasay City. The carrier single is entitled "Maselang Bahaghari" composed by Ely.
INTERNATIONAL RECOGNITION
If you're thinking that The Eraserheads is a name familiar only to the Filipinos and their Asian neighbors, you couldn't be more wrong. The Eraserheads have appeared and performed before a jam-packed audience in as far a location as New York. Take a look:
"The Exciting Night Sentosa" in Singapore, March 1997
The Palace, Hollywood, California, May 1997
Calvin Simmons Theater, Oakland, California, May 1997
MTV Asian Viewer's Choice Awards, New York, September 1997
Hard Rock Café, Singapore, October 1997
"Asian Live Dream '98" for NHK Broadcasting, Japan, February 1998
Calvin Simmons Theater, Oakland California, May 1998
Sexson Auditorium, Pasadena City College, California, May 1998